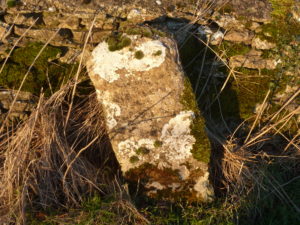 This was  a Medieval Route from Cirencester.to Painswick and then on to Gloucester. From Cirencester the track ran via Park Corner, Tunley Bottom and Waterlane to Bisley. In Bear Pitch, there is a milestone on the right, near the village lock up, marked 10 miles to Gloucester. The track passed the Bear Inn and proceeded to Stancombe Cross Roads and then down Catswood Lane where another milestone may be seen (about 600 metres on the right) which originally bore the inscription "Gloucester 9 Bisley 1". Passing the junction with Daws Lane at Catswood Cottage there is a steep drop with a right turn into King Charles Lane running on down to cross the Slad Brook at Steanbridge. The track then goes uphill to join the Slad Road up to Bulls cross. It then dropped into Painswick via Bisley Street and followed the road to Gloucester, past Painswick Beacon through Upton St Leonards, and then along the Painswick Road, Barton Street and the Eastgate.
King Charles Lane was so called because in 1643 during the English Civil War the Royalist army under King Charles followed this route to their unsuccessful siege of Gloucester.
This route is now on metalled roads except for the sections from Cirencester to Tunley Bottom which is now a rough footpath and from the bottom of Catswood Lane to Bulls Cross (King Charles Lane) which is now a rough sunken track.