Stancombe is a small hamlet about a mile west of Bisley.
The Old Toll House

The toll house was built in 1823 when the turnpikes were introduced to finance the improved roads. It originally comprised simply of a rectangular building with a semi-hexagonal front which enabled the toll collector to see oncoming traffic in both directions. There was a parlour with sleeping accommodation above. A door was situated in the middle of the front. Some out buildings existed in a small area to the west. These were probably an outside toilet and shed or chicken house
A subsequent modification built an extension on the rear of the original building, doubling its size, and a side passage on the east side. The original front door was replaced by a window and a new door included in the side passage. A so far unidentified building in the farm orchard behind the toll house  was built about 1896.
A further extension in the mid 1900s was built across the rear of the toll house. The roof of the side passage was modified with some strange castellations added. The unidentified building had been demolished by then. More recently a conservatory kitchen was added.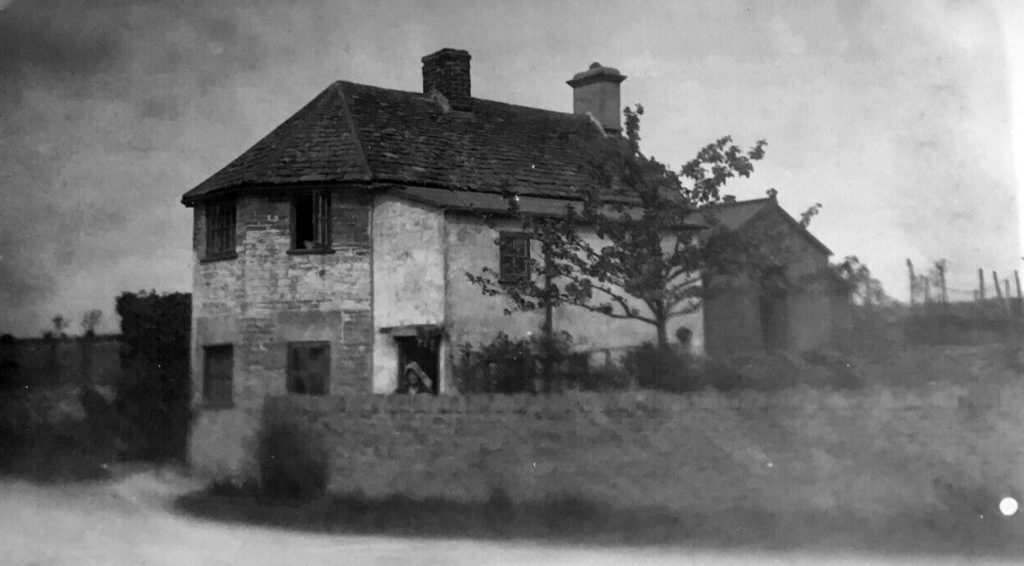 Click here to see the toll house now on google maps
https://goo.gl/maps/YPZNnSkdLb3css2x7

Hauntings
Reported by several past residents, hauntings of the Old Toll House by a white lady appearing on the stairs lead to people leaving in the mid 1900s.
From the current residents – We were led to believe the house was built in 1823 when the road to Stroud was turnpiked but the mention of the "white lady" is very interesting- some time ago I was alone in the house and heard noises upstairs, thinking Lorraine and Sophia had come back, went up into the room but no one was there!…
Also, Lorraine has heard horse hooves outside , at night, which was strange as, again ,there was nothing there.
Perhaps, given the unpopular nature of giving Tolls ( I believe a similar building at Minchinhampton was burnt down) , it is not surprising there might be a few malevolent spirits lingering around!
Thank you again for the information about the Toll House as we have not been able gain much information as the deeds were unfortunately lost by the previous owners.
Many thanks,
Dave and Lorraine.
There have also been suggestions that Stancombe Farm is haunted.
Sue Williams of Stancombe Ash Farm reported – There may be a haunting of a horse riding along the road by the toll house.Whether this is residual energy (stone tape theory ) or re-enactment of a specific event, who knows but it has certainly been heard many times. I actually went into the lane looking for a horse in case one had escaped, but found absolutely nothing. Could this be a reflection of a traveller on horseback galloping past to avoid the toll?